Seeing my child's life swinging between survival and death petrifies me. My son has been afflicted with something we've never heard of.
Everything that has been told to us about the rare disorder scares us to the core. He cries in pain, and we cry for his denigrating life.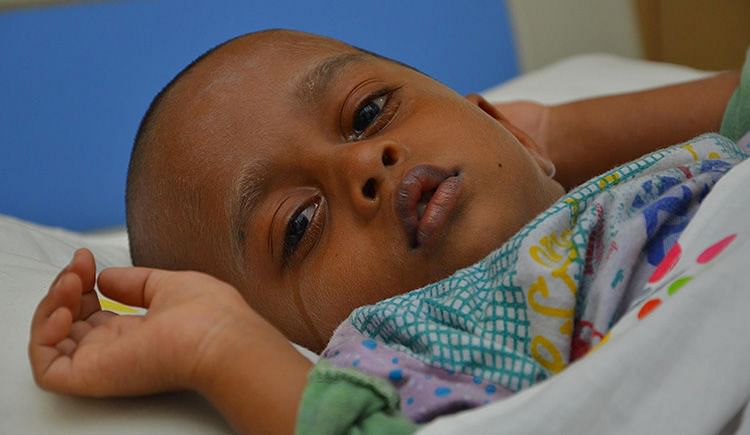 Chinmayi Sai Durga Mahesh, my three-year-old son, has a rare life-threatening disorder called Griscelli syndrome with primary Hemophagocytic lymphohistiocytosis.
Griscelli syndrome is partial albinism with immunodeficiency, and Primary HLH is a condition where the cells of the immune system called T and NK cells (cells that fight infections) do not work properly.

An Allogenic Bone Marrow Transplant is the only way out, but the estimated cost is about Rs. 12 lakh ($ 16,548) and we cannot afford it.
I am Shivarani, the mother of Sai Durga. We come from Ongole in Andhra, and my husband is a farmer. His daily wage is Rs. 300 ($ 5). A year back, my son suffered from a severe rise in temperature. We took him to various hospitals in Gudur and Ongole, and it was in Chennai that he was diagnosed with this uncommon condition.
Since then, we've been travelling back and forth from Andhra to Chennai for injections.

Fortunately, there was a 10/10 match for bone marrow transplant with his elder sibling and my daughter, Rukmani; we are praying relentlessly for his cure.
All this has had an effect on my son's behaviour; from being playful and joyous, he's become dull and cranky.
With such meagre income, we have nowhere to go to get the money.
Since we'd been consulting a doctor in a government hospital, we did not have much to pay except for the travel. We are in a depressing state; Rs. 12 lakh ($ 16,548) is out of our league, and we are absolutely clueless.

His chances of survival would become very bleak if we don't get him treated now. We don't want to lose our son; you can help him live.
The specifics of this case have been verified by the medical team at the concerned hospital. For any clarification on the treatment or associated costs, contact the campaign organizer or the medical team.

Charity No.: 57765435