Note: Even though the father is a perfect match and will be the donor, the poor parents will never be able to arrange Rs 34 lakh to save their dying son.
"Mama please ask them to stop pricking me. This pains me a lot. When I asked my friends if such things happen to them, they said no and told me that it only happens to bad boys. Have I been bad?"- Yogi Vardhan, 7
As their son cries when he says this, he doesn't know how much it hurts his mother to see a needle prick his skin. Sumithra (Yogi's mother) turns away as she cannot bear to see a few drops of blood emerge from his son's skin when the doctors pierce him with the needles at the start of every transfusion session.
This has been happening to her little boy ever since he was just 3 months old and will continue for a very long time unless he undergoes an urgent bone marrow transplant.
Yogi is his parents' first child and he was born healthy. Looking at his smiling face every morning made their day go by beautifully. 3 months later as their little baby's temperature rose and his cold persisted, the worried parents rushed their baby to the doctor as it was the first time he had fallen ill. When they were told to get their baby's blood test done, they were blank and wondered why they were being asked to get a test done for such a minor issue?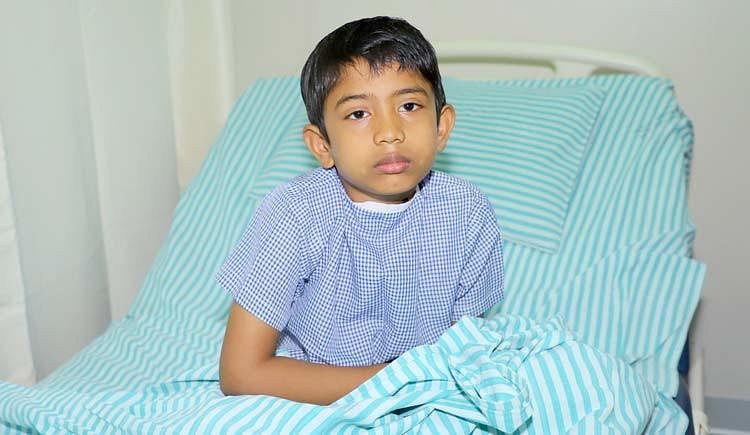 A few days later the test results arrived and Yogi's parents were shocked to learn that their baby boy was suffering from Thalassemia Major- It is a blood disorder in which normal hemoglobin is absent in the body, and results in excessive destruction of red blood cells causing life-threatening anemia.

Ever since that day, they have had to travel back and forth every few days to the hospital to ensure that their son receives timely blood transfusions. He has grown up to believe that it is a punishment for his behavior.
I shudder as I remember when my Yogi came to me and asked me if he had been a good boy for the last 20 days and if so please don't take him back to the hospital."- Sumithra, mother
Sumithra became so stressed out about her son's treatment that she herself developed a heart condition in 2014. This required her husband to switch to a night shift so that he could be home in the morning to care for the household and continue to earn money. He works as a taxi driver and earns 0 a month.

When Sumithra became pregnant for the 2nd time, she learned that her unborn child too suffered from Thalassemia Major in the womb itself. She couldn't take the news and clutched her chest in panic as the doctor and her husband had to give her some water.
Their life is filled with misery as both their children have to undergo painful transfusions for their blood disorders on a regular basis just to stay alive. They are aware of the risk to their children's lives if they miss even a single session. Their mother couldn't see them suffering endlessly and asked the doctor for how many more years their children would have to go through such immense pain.
The doctors told her that bone marrow transplants are the only thing that can cure her kids completely. However, on the advice of the doctors, they will first concentrate on their elder son Yogi's transplant which will cost

0

.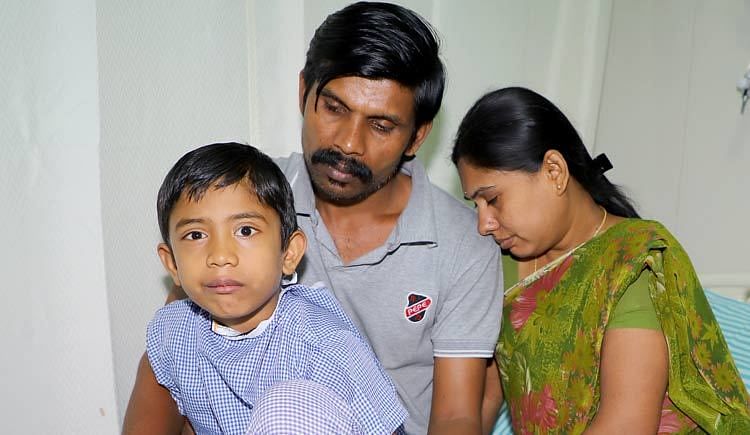 Yogi's mother is still undergoing treatment for her heart problem and is extremely stressed out as she wonders from where they will get the money to save their son. They have sold their gold and even borrowed money from their friends. Over the last 7 years, they have spent close to 0 in paying off both their children's medical bills and have nothing left.
They are struggling to save every penny and are desperate for immediate financial assistance. Please donate generously and help this family save their son.
The specifics of this case have been verified by the medical team at the concerned hospital. For any clarification on the treatment or associated costs, contact the campaign organizer or the medical team.

Charity No: 78867555
Note: This fundraiser is not eligible for 80G tax exemption.