In 2021 Ketto aims to bring about change.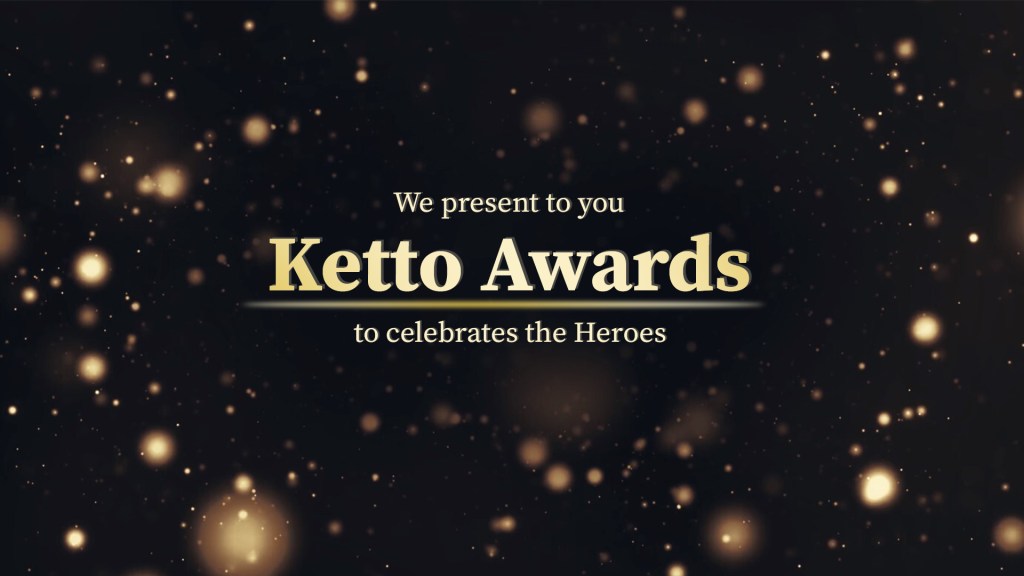 Such a change that will build a better tomorrow, a better world and a better experience. To fulfil this dream, we need to first accept change.
2020 has taught us that nothing is constant, and change is inevitable.
Similarly, the past year taught us to pool our crowdfunding efforts to usher in a positive change. It also taught us that we need to reward change-makers and celebrate the work being done to effect lasting positive change.
In a bid to recognize and celebrate the initiatives driving positive change in India, Ketto hosted the second edition of Ketto awards.
The Ketto Awards 2020 have been instituted to recognize key initiatives taken up by individuals, corporate and social entrepreneurs to create meaningful and sustainable change in society.
With Ketto awards, we want to ensure the work of individuals contributing to making a difference to our society doesn't go unnoticed. These awards highlight the role of prominent NGOs and individuals, often in partnership with the public or private sectors, to address social challenges and improve the communities in which they operate.
The Ketto Awards recognise these organisations and individuals who have achieved a meaningful and sustainable social impact through their endeavours or partnerships, investments, and pro-bono work initiatives.
Through the extensive work carried out in the country, our research team finalised a range of categories. The goal; to ensure that no good job in any form was overlooked.
Our research team closely monitored activity in every field in the country.
This was supplemented with the work done by all our partnering NGOs.
Our jury includes: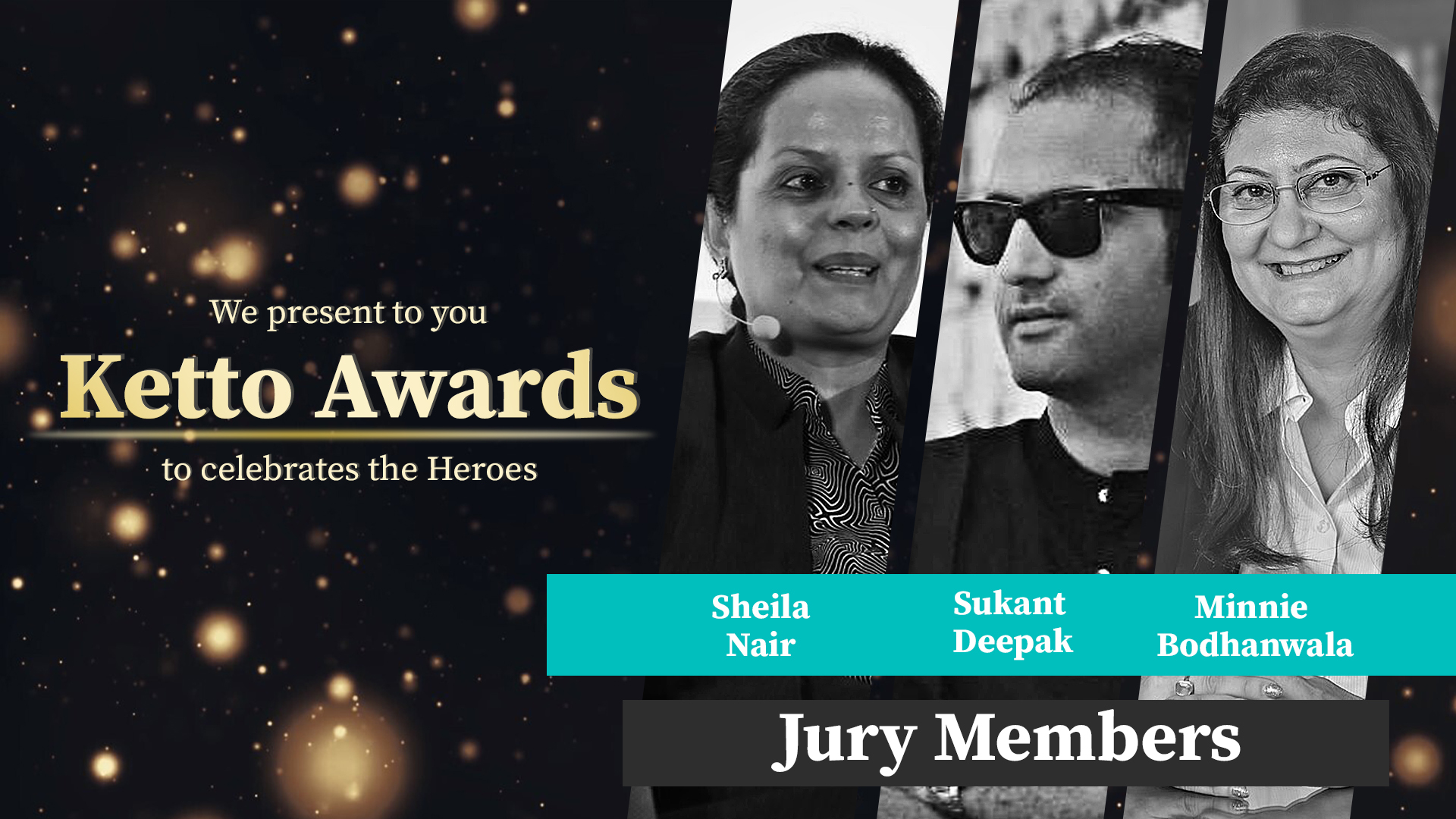 Sheila Nair: Nair is a graduate of the University of Madras, an alumnus of XLRI Jamshedpur and veteran in the hospitality industry. With over twenty-five years of hospitality experience. For more than twenty years she held senior leadership positions with the Taj Group of Hotels and Jodhana heritage resorts, a venture of HH Maharaja Gaj Singh with the association of WelcomHeritage Group of ITC.

Minnie Bodhanwala: An Indian business executive, entrepreneur and a dentist. She is the CEO of Nowrosjee Wadia Maternity Hospital and Bai Jerbai Wadia Hospital for Children in Mumbai. Bodhanwala is a board member and director of several Wadia Group organisations and companies. Her current appointment includes; trustee of Sir Ness Wadia Foundation and advisor to the Chairman for CSR and Modern Education society.

Sukant Deepak: With over 15 years of experience as a journalist/feature writer, he has helped build teams, been an integral part of new media product launches, and framed content architecture. Art & Culture is his speciality in reportage. He is the Deputy Editor for Indo-Asian News Service and in the past held the position of Senior Associate Editor at India Today where he was responsible for feature articles in Chandigarh, Punjab and Himachal Pradesh. Similarly, content generation for the Group's supplement magazine 'India Today Punjabi' was part of his mandate. Mr Sukant also wrote features for DailyO.
Our juries are eminent personalities and leading industry professionals with years of experience within the category; they're well placed to measure work.
Similarly, we developed a proprietary measurement format to determine winners transparently.
We now introduce to you all, the second year of Ketto awards; an entirely digital property. From its launch to the announcement of nominees and winners, the entire property is online.
Let's not spend more time.
The First award goes to…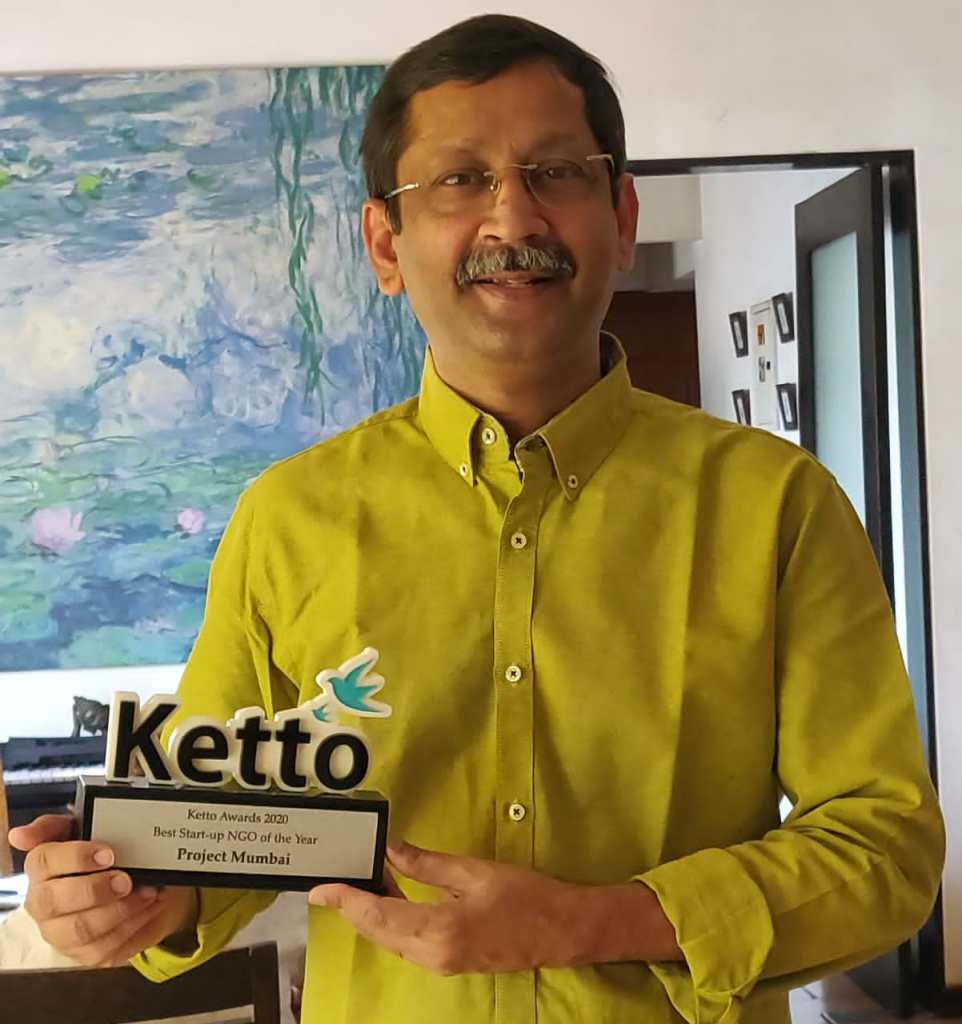 ---
Category: Best Start-up NGO of the Year
---
Project Mumbai
---
Winner: Shishir
---
Project Mumbai has interminably worked for years for the larger good. It is a registered charitable trust which has made an enormous impact on society. It is an effort to identify challenges which people face, every day. And find solutions. They have helped countless during the pandemic. To name a few, they set up three Mental Health Helplines which reached out to thousands of people across 24 states of India, provided cooked meals to over 55 lakh people and provided grocery kits to over 30,000 families. Project Mumbai has donated two lakh PPE Kits to doctors of Mumbai Municipal Corporation, along with four lakh masks, ten thousand PPE kits, ten thousand raincoats and ten thousand face shields to Mumbai and Maharashtra Police. They have helped build domestic abuse as an outreach and support platform for women in distress and provided over 50,000 sanitary pads kits to women in need.
Ketto Awards 2020
---
Category: Best National NGO of the Year
---
Winner: Pratham Mumbai Education Initiative
---
Pratham is an innovative learning organisation created to improve the quality of education in India. Established in 1995 to provide education to children in the slums of Mumbai, Pratham has grown in both scope and scale, with programs today reaching children and youth across the country. As one of the largest non-governmental organisations in the country, Pratham focuses on high quality, low-cost and replicable interventions to address gaps in the education system. Working directly with children and youth and large-scale collaborations with government systems, Pratham programs reach millions of lives every year. Pratham's Teaching at the Right Level (TaRL) approach has demonstrated a proven impact on children's learning outcomes and is now being adapted to contexts outside India.
During the lockdown, Pratham Mumbai Education Initiative and a few social entrepreneurs, corporate leaders and others – launched the Mumbai Food Project to set up temporary food camps and distribution zones across Mumbai. The food camps served pre-packaged meals and ration kits through a network of supply partners, local volunteers and partner NGOs while maintaining strict distancing and hygiene protocols. Pratham's extensive reach through established educational initiatives in underprivileged areas. With generous patrons' help, the Mumbai Food Project has delivered more than 1 million meals to workers in 12 locations across Mumbai since March 30th 2020.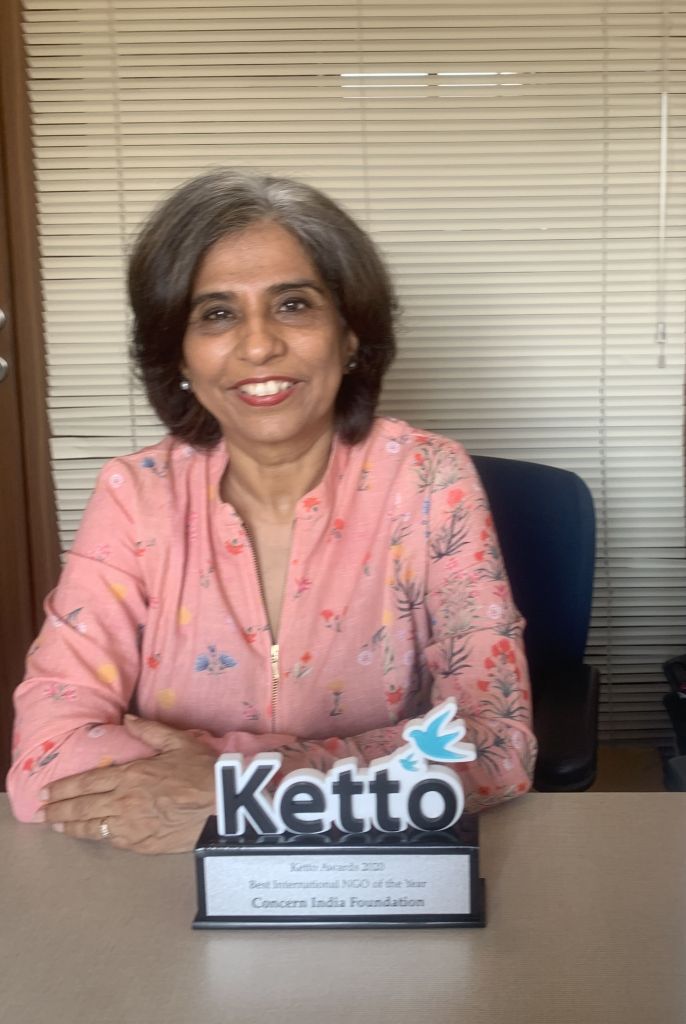 Ketto Awards 2020
---
Category: Best International NGO of the Year
---
Winner: Concern India Foundation
---
With the unprecedented crisis that has gripped the country with the Covid 19 pandemic and the ensuing lockdown has left lakhs of daily wage workers without earnings. Concern India Foundation mobilised its efforts to organise fundraisers to meet the situation's needs and reach out to the affected communities. They networked with corporate houses, the police, hospitals and grassroots level bodies in different parts of India to bring support to Hospitals and frontline health workers, police forces and daily wage workers. Concern India also worked to bring personal protective equipment to health workers, medical equipment and sanitisation material to hospitals and ration support to daily wage workers in Bangalore, Mumbai, Pune, Telangana, Delhi, Noida, Chennai and West Bengal.
Ketto Awards 2020
---
Category: Best Social Entrepreneur of the Year
---
Winner: Rajshri Deshpande – Nabhangan Foundation
---
Sacred Games' fame actor Rajshri Deshpande, has played a pivotal role in helping pimpalgaon Pandhari village in Aurangabad, to combat the COVID crisis. She had adopted Pimpalgaon 5 years ago and worked towards building an infrastructure of the Zilla Parishad School for the village's children. Deshpande's Nabhangan Foundation, with the help of Ketto, had raised Rs 7,03,500 required to complete the school. She has also revived the Bemba river and helped earn an alternate income by planting over 350 trees and building around 200 toilets. Being from a farmer family herself, she deeply related to the poor's struggles, especially during a pandemic. Her Foundation thus helped distribute basic amenities to the villagers like COVID kits, including ration and sanitation products. The Foundation aims to empower daily wage workers by building them a sustainable livelihood and has already involved the village's youth in working for the school.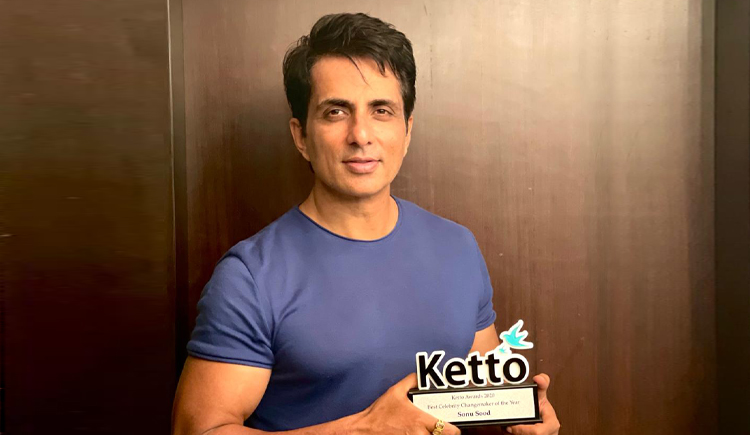 Ketto Awards 2020
---
Category: Best Celebrity Change Maker of the Year
---
Winner: Sonu Sood
---
Bollywood actor Sonu Sood emerged as the real-life hero for poor migrant workers stuck in several cities during the lockdown. He, along with his friend Neeti Goel, a Mumbai-based restaurateur and their team has sent more than 70,000 people home by buses, Shramik trains, and even flights. Sood also accommodated healthcare workers of nearby hospitals in his Juhu Hotel who were treating Covid-19 patients. Initially, Sood and Goel financed the initiative themselves, but soon help started to pour in from friends who wanted to be part of it. Their crowdfunding initiative, named Ghar Bhejo, raised over Rs 52 lakh, which included donations of Rs 10 and above. Some donated through Lala Bhagwandas Trust, a 35-year-old trust set up by Goel's family, towards the cause. According to Goel, people from the film industry, cricketers, and business people were also among the generous patrons donating anywhere between Rs 5 lakh to 30 lakhs. Sonu Sood was already involved in charitable work through his trust, Professor Saroj Sood Trust, named after his mother. The trust has launched a scholarship program for academically bright students of underprivileged families with an annual income of less than 2 lakh; the scholarship covers course fees and food, accommodation, and hostel, among other expenses. In September 2020, Sonu Sood also launched the ILAAJ India initiative to extend support for the children's medical care and treatment.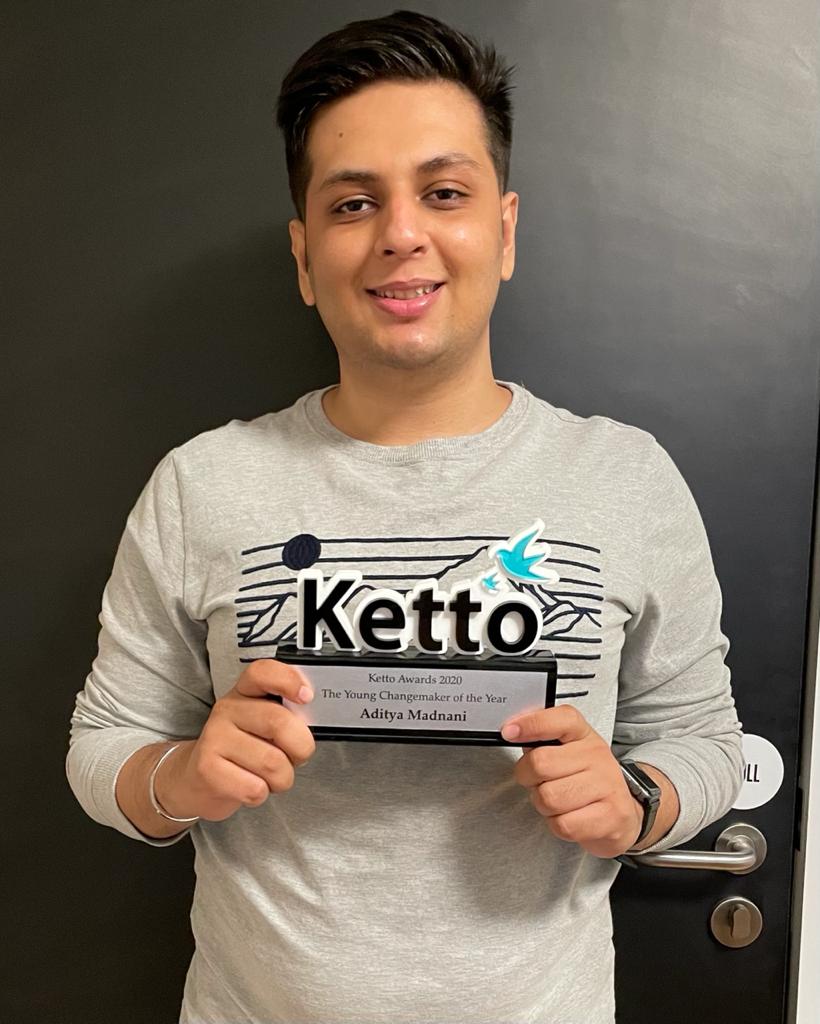 Ketto Awards 2020
---
Category: The Young Changemaker of the Year
---
Winner: Aditya Madnani
---
The Alpha Urbane Project (TAUP), spearheaded by Founder Aditya Madnani and core team members raised funds for several NGOs to deal with COVID-19 Pandemic Response. TAUP has conducted over 50 campaigns for the NGO Habitat for Humanity through Ketto, raising over INR 1.44 crore for the ones affected by COVID-19, mostly the daily wage labourers, slum dwellers, people living in slums and other distressed communities. TAUP has also raised over 50 lakhs in funds and served more than 2,35,000 meals with Akshaya Patra Foundation's fundraiser in May 2020. During their collaboration with J.B. Petit High School, over 3000 students started their fundraiser and raised over INR 50.31 lakhs. Along with the Cathedral and John Connon School, TAUP has provided families with hygiene kits in Maharashtra, Tamil Nadu, Kerala and Delhi and raised over INR 1.44 crore.
Ketto Awards 2020
---
Category: Best Corporate CSR Campaign of the Year
---
Winner: Zerodha Cares
---
Zerodha is an investment and trading company launched in 2010, to help investors clear obstacles they face in terms of cost, support, and technology. The company has actively engaged in CSR projects primarily in districts of Karnataka like sponsoring the education of tribal students, promoting sanitation in rural schools, environmental causes like planting 10,000 trees in the human-made island of Somanahalli, healthcare schemes include Mobile Medicare Units for the poor and elderly and regular medical camps with the help of associated NGOs and COVID relief work like providing 15,000 meals to the needy and allocating 25 crores for relief work spanning over different areas around Bengaluru.
Ketto Awards 2020
Category: Best School Initiative of the Year
WInner: JBCN International School, Parel
---
During COVID lockdown time, the student council of JBCN Parel took the initiative to help affected by the lockdown. They partnered with an NGO and set up an online fundraising event in school. A team of 6 students, organised the whole event on their own and raised 13 lacs. The school does not intervene with permissions for community projects and let the students drive it to end-to-end.
Latest posts by Christopher
(see all)