The Coronavirus epidemic has brought our nation together in a literal sense. Individuals, NGOs, and corporations went beyond their way to support and assist in humanitarian efforts that arose throughout the country like the oxygen crisis, support to migrant workers during the lockdown & providing PPE Kits to frontline workers.
We at Ketto, understand, making long-term, meaningful changes take a lot of effort. To recognise and celebrate the major efforts to bring about profound and long-term change in society & the country, undertaken by people, corporations, and social entrepreneurs, "Ketto, Southeast Asia's leading & reliable crowdfunding platform, presented its latest edition of the Ketto award ceremonies."
The Ketto Awards' goal is to make sure that hard effort doesn't go unappreciated. "Ketto aspires to create a more prosperous, healthier, and secure future. The team at Ketto is constantly attempting to close the affordability gap. The aim and objective of Ketto is to make high-quality healthcare available to everyone.
The judges for this year, comprised of Dr Rajan Samuel Managing Director of Habitat for Humanity, Sheila Nair CEO of ThoughtFrame, and Chanda Peswani Director – Donor Relations of the Akanksha Foundation, with extensive expertise in the social sectors
The jury members were given a detailed nomination brief to help them choose the best social changemaker. The project's impact and scalability were the two most important factors in determining the winners of the Ketto Awards – 2021.
So here's to The Changemakers, The Trailblazers, The Catalysts Of Revolution who moved an entire nation with their Kind Hearts and Strong Resolves.
---
Presenting
Ketto Awards 2021-2022
---
Best Celebrity Changemakers of the Year
Palak Muchhal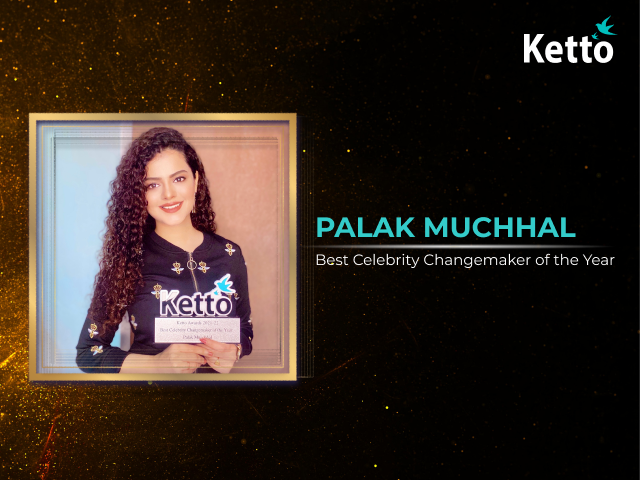 Palak Muchhal, an acclaimed playback singer and philanthropist, has accomplished what only a few people would have managed at so young an age. Together with her brother, Palash Muchhal, she raises funds for needy children who cannot afford heart surgery throughout India and abroad. To date, she has treated 2277 children with financial assistance and nearly 400 children are on her waiting list who need treatment as well. It is her life mission now to save lives. Her fundraiser on Ketto pursued the same mission of saving many children's lives. Her noble cause helped her raise more than 22 lakh from the support of hundreds of people.
---
Best NGO in New Enterprise Category
Democracy People Foundation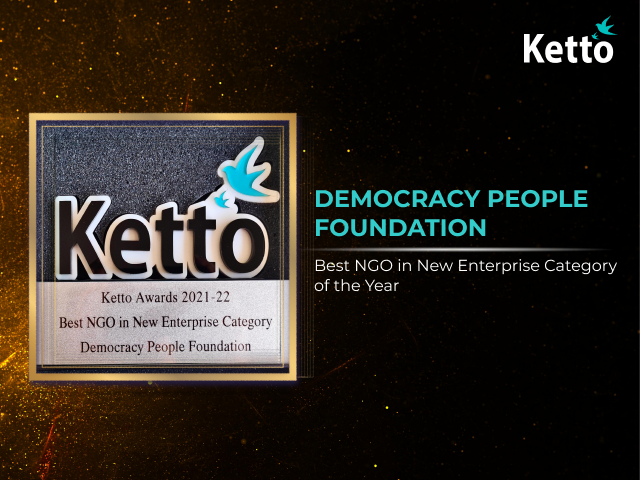 During the peak of the second wave of COVID-19 Democracy, People Foundation launched an initiative called Mission Oxygen in April 2021. Actor Taapsee Pannu, Abhishek Bachchan and Kunal Kapoor were among the many Bollywood celebs who contributed to the fundraiser. Cricket legend Sachin Tendulkar lent his support to the cause. The organization sourced 5,244 medical oxygen concentrators in China from World Health Organization–approved medical facilities and donated them to over 370 institutions and NGOs in 28 states in India. This program helped set up 37 oxygen generation plants and also contributed 55,000 oximeters to the National Health Missions programme in Tamil Nadu so that 6 million people could be monitored simultaneously.
---
Best National NGO of the Year
Enabling Leadership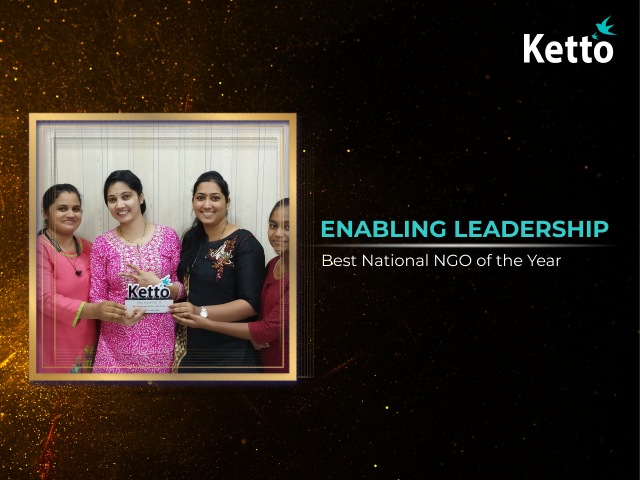 Enabling Leadership endeavoured to support 5120 children in 6 cities and 21 villages across India in 2020-2021. 'Just for Kicks' virtually reached 3700 students and aimed at ensuring physical fitness and well-being, focusing on football. 'Music Basti' focused on helping students hone their music skills and develop knowledge of songwriting and composition. Similarly, the 'Build Maya' program helped kids participate in constructive play and design thinking-based assignments using Lego blocks and small local community projects. In addition, coaches and teachers did weekly check-ins, conducted group sessions, and made students practice independently. They even conducted online showcases for each program for students to utilize their talents.
---
Best International NGO of the Year
Doctors for you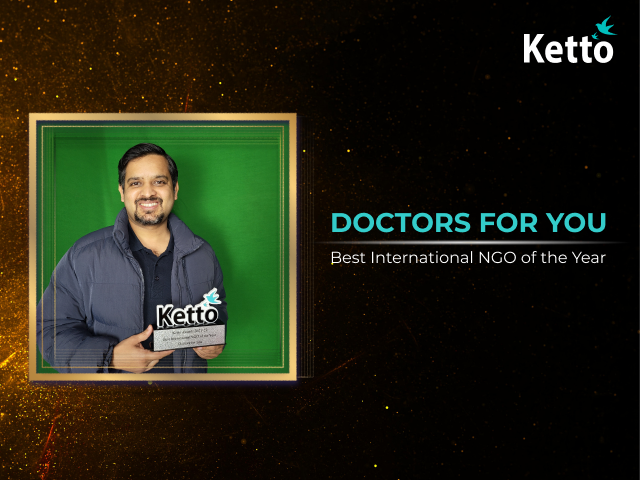 Established in 2007, 'Doctors for You' (DFY) is the largest network of Doctors, Medical Students and Concerned citizens. The vision of DFY is to provide affordable & quality medical relief, sustainable & robust healthcare services, capacity building & risk reduction activities in crisis or otherwise. As India was facing a surge with the second wave, DFY provided crucial aid to struggling hospitals and critical patients in multiple cities. Their fundraiser on Ketto raised over Rs 1 crore with the help of more than 2,000 supporters. With the collected funds, DFY was able to assist 17+ COVID Care Centers across the country. Among many other things, DFY also facilitated 54+ vaccination drives across India, had vaccinated 60L+ people, and provided PPE Kits, Masks, Face Shields, Gloves and pandemic special training to over 100+ hospitals across India.
---
Best Social Change Icon of the Year
Shahnawaaz Shaikh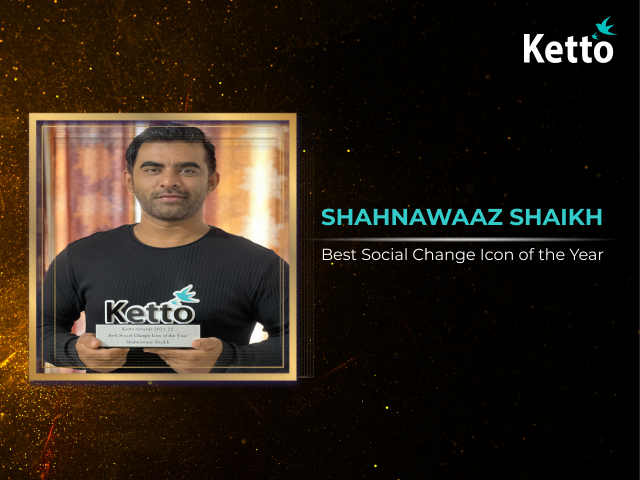 ---
Best Young Changemaker of the Year
Jasper Paul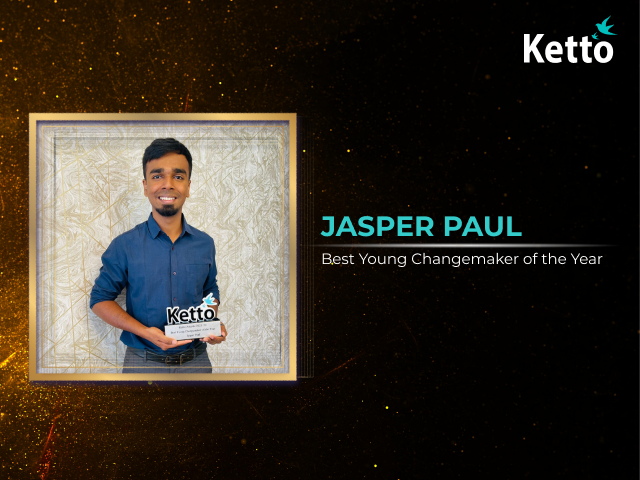 ---
Best CSR Campaign of the Year
Vahdam Teas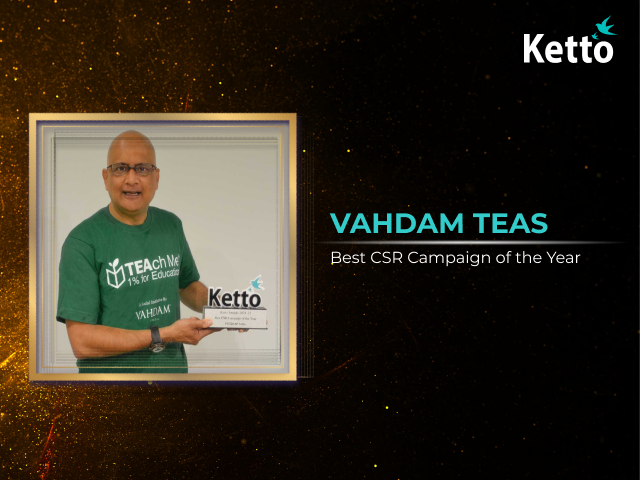 ---
Best School Initiative of the Year
The JB Petit High School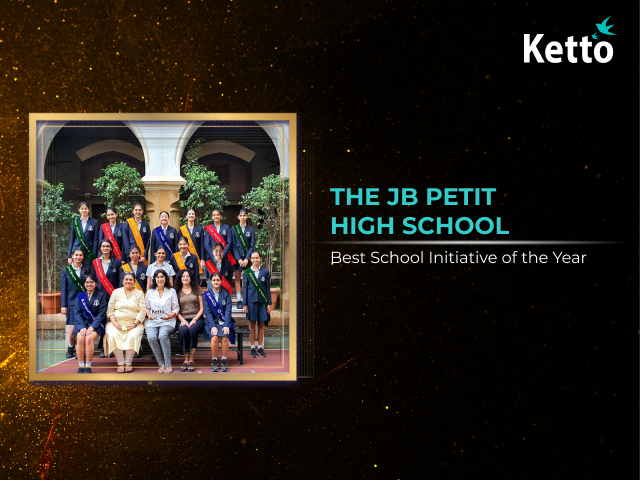 JB Petit High School has collaborated with Habitat for Humanity twice to help perpetuate their efforts towards Covid relief. For their first initiative, they helped raise funds through crowdfunding for Habitat for Humanity to support families and individuals living in vulnerable conditions with no safety net and provide them with essential goods and hygiene items. In 2021, during the rise of the second Covid wave, they stepped up again to support government hospitals with Oxygen Generators, Oxygen Concentrators & PPE Kits to help them carry out effective treatments.
---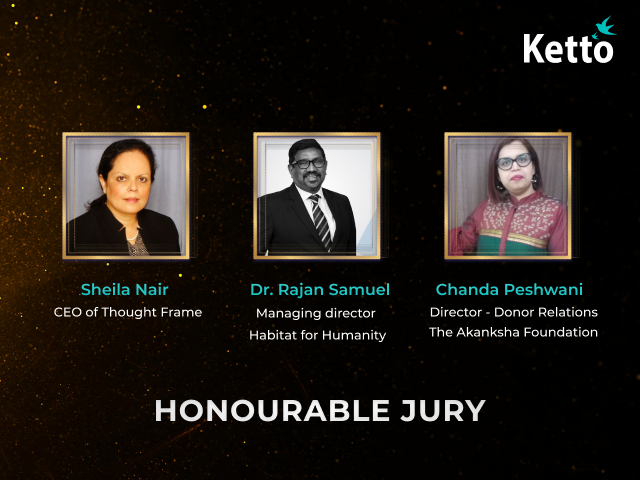 Sheila Nair CEO of Thought Frame
Sheila Nair is a graduate of the University of Madras, an alumnus of XLRI Jamshedpur and a veteran in the hospitality industry. With over twenty-five years of hospitality experience. For more than twenty years she held senior leadership positions with the Taj Group of Hotels and Jodhana heritage resorts, a venture of HH Maharaja Gaj Singh with the association of WelcomHeritage Group of ITC.
---
Dr Rajan Samuel Managing director, Habitat for Humanity
An accomplished international expert on rural credit, Dr Rajan Samuel works to establish financial institutions that empower family farmers, women, and poor urban dwellers by providing them with the financial services and access to community life that they need to improve their lives. Rajan has worked for Habitat for Humanity International for over 15 years; most recently as the microfinance housing manager in Asia-Pacific headquarters in Bangladesh. Prior to taking this role, he was co-founder and director of the Rural Development Institute (RDI). Before RDI, he lived in Bangladesh for six years as a consultant for several leading international development organizations as well as UN agencies working on microcredit and village banking. He currently resides in India with his wife and children.
---
Chanda Peswani Director – Donor Relations, the Akanksha Foundation
Chanda Peswani is the Director of Donor Relations at Akanksha Foundation is an experienced Partnerships Manager with a demonstrated history of working in the non-profit organization as well as Corporate sector. She is a strong business development professional with a PGDBA focused in Marketing from Symbiosis Institute of Business Management. The Social Sector is close to her heart and she started her journey with CRY – Child Rights and You.
---
Latest posts by Christopher
(see all)