ABOUT THE PERSON: Kulsum Hussein
Age: 88

Husband: cab driver (died when she was 40)

Children: none

Hometown: Mumbai

Sources of income:

Age 40-52: cleaning people's homes in Mumbai

Age 53-73: nanny & housekeeper for my family in the US

Age 74-88: Interest from savings (Mumbai) – INR 1000 per month

Housing situation: lives alone in tenement housing purchased from Aga Khan Development Network in Mumbai; bedroom, bathroom, and kitchen contained within 4'x6' room

Health: pulmonary hypertension (see below for details about recent incident)

Mobility: cannot stand upright; needs a walker; can no longer step out

Medical infrastructure: none; has no walker, wheelchair, etc.

Insurance: none; not eligible based on my research

Citizenship: USA; technically entitled to social security/retirement benefits but I have been unable to help her get it despite multiple attempts

Financial status: No income
WHY THIS IS IMPORTANT:
She generously put most of her savings from her time in the US towards helping her family improve their quality of life; helped in terms of housing, education, etc.

Remaining funds depleted between last surgery (intestinal ischemia – 2014), this hospital visit, and related medication, check-ups, etc.

Never has a "woe is me" attitude

Truly wants to continue to be as independent as possible and avoid being a burden to anyone and/or at the mercy of someone else
ABOUT THE INCIDENT:
I came to know that she was ill because I happened to call her at 11:30 pm randomly, and noticed that she was struggling to speak. She just about managed to tell me that she had major incontinence for the last two days (urinating incessantly), was shivering, and had severe pain in her legs. It was clear to me that she was also not completely coherent. I rushed and was at her house by midnight, and opened her door to find that the lights were off. There she was sitting on the floor in the darkness with a MASSIVE bump on her head. She had fallen trying to change her clothes, and was totally helpless at that point. Luckily I had had the presence of mind to grab some blankets on the way out for her.
At the ICU, I learned that her bump had become a haematoma, and that part of her spine was damaged as a result of her fall. She was on pain killers, calcium, electrolytes, and of course a lot of rest for the next few days. She has been prescribed continuous physiotherapy, a balanced diet, calcium, and other medication along with follow-up visits.
BACKGROUND:
As a Khoja Aga Khani that lives in tenement housing and has an income of 1000 Rupees a month, she is entitled to get assistance with paying the hospital bill from the Aga Khan Social Welfare Board. They, however, were not willing to grant her any sort of help, despite the fact that the concerned team knows her actual situation, as she lives in the same Khoja society as most of them.
According to the (mis)information they have, she is not only mooching off of one of her nephews, but also owns multiple properties, all of which she has rented out. Moreover, the nephew whom she is living with and mooching off of financially "earns well." One of the most ridiculous parts of this is the fact that their database says that she doesn't live in Mumbai, even though she literally lives in the same colony as people who see her at the prayer hall every single day. Essentially, their database says that she has way too much money for someone who is purportedly poor even though they are witness to the situation everyday. I'm attaching screenshots of just a few of my numerous conversations with the concerned parties. Some of them did make an effort -- truly -- but were ultimately helpless because those in charge totally blew me off. For an organization that has SO much money, I think that this is unacceptable. They were not willing to attempt to update the information in their system in time to ensure that she is approved for assistance before she is discharged from the hospital. Apparently, once you've paid the bill you cannot be considered for assistance, as you are indicating that you have the capacity to pay the bill.
Please find below documentation of just ONE of my attempts to speak to the person in charge of making sure that records are in order, support is provided, etc.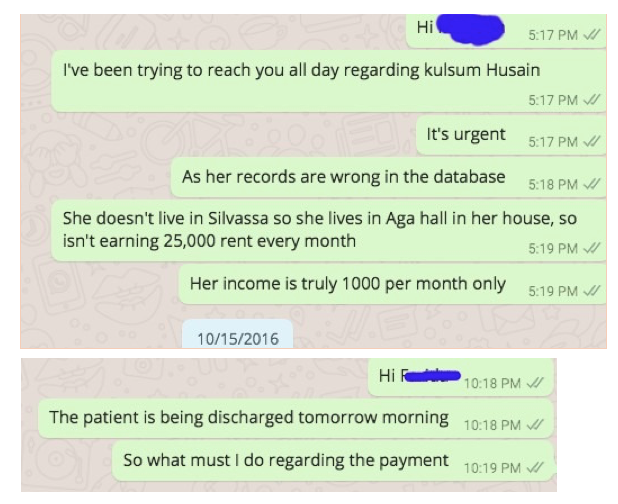 That was the end of that conversation. The following are the other 2 helpless people that tried to help me, as I've known them for the last 30+ years, and they know that it's a genuine case.
Person #1: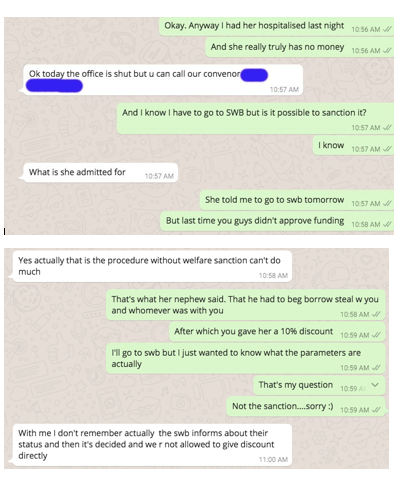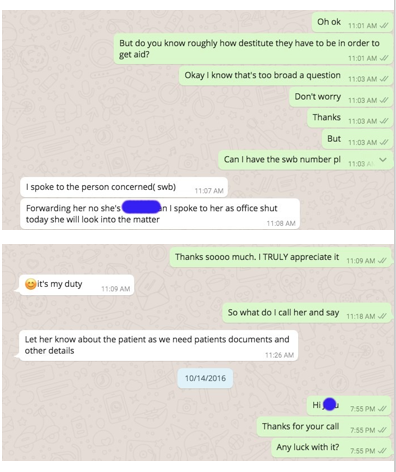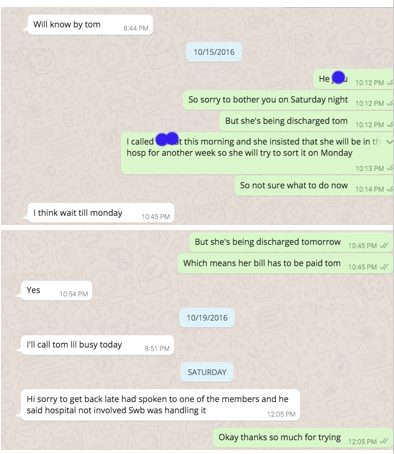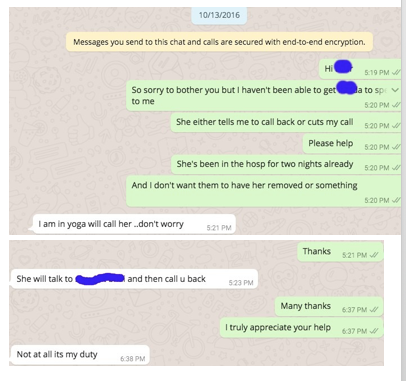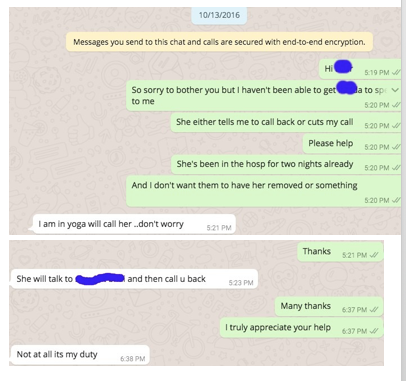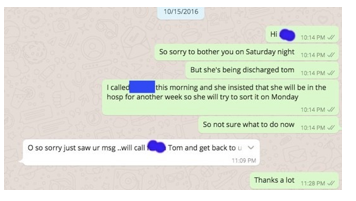 She, therefore, still owes the Rs. 210,000 she had to borrow for her last surgery in addition to the roughly Rs. 36,000 for this hospital visit.
DIFFERENT WAYS TO CONTRIBUTE:
Contribute towards repayment of loan

Share advice/information to help get the social security benefits that she is entitled to

Help get her a health insurance policy, as she has been denied whenever I made an attempt to get her one; it would really help her in the event that she faces another such situation

Provide water and/or any other supplies (see below)

Simply share this post with friends, family, etc.
We are asking for the total of her two loan amounts (approximately Rs. 245,000) + the 6% Ketto fee. The following is documentation from her recent visit (don't have the other one handy):
Anything additional will be greatly appreciated because she has to:
Continue taking the prescribed medication,

Get physiotherapy,

Eat properly (including fruits & vegetables) & drink clean water,

Wear adult diapers,

Visit doctors for follow-ups,

Generally sustain herself.
As she no longer has any savings, she will not even be getting the 1000 rupees that she was getting as interest. Moreover, my contributions won't suffice, so ANY contributions in cash or kind will help.
Many thanks in advance just for reading this and simply considering the idea of supporting her.