About Me
I am an engineer by training, and now a consultant based in Bengaluru.
Two decades in US made it distressingly clear to me that so-called 'developed nations' - mainly USA - are destroying or abusing valuable natural resources (cutting hundreds of trees for questionable capitalist motives such as malls and acres of parking lots, abusing water resources by wasteful practices, etc.) at a horrifying rate due to consumerism and ignorance.
Closer to home, having seen the fiasco played out in Mavallipura, and now in Mandur (Bengaluru), as well as Chennai and other metros groaning under the weight of mountains of trash - it was a breath of fresh air to meet Manjunath two months ago.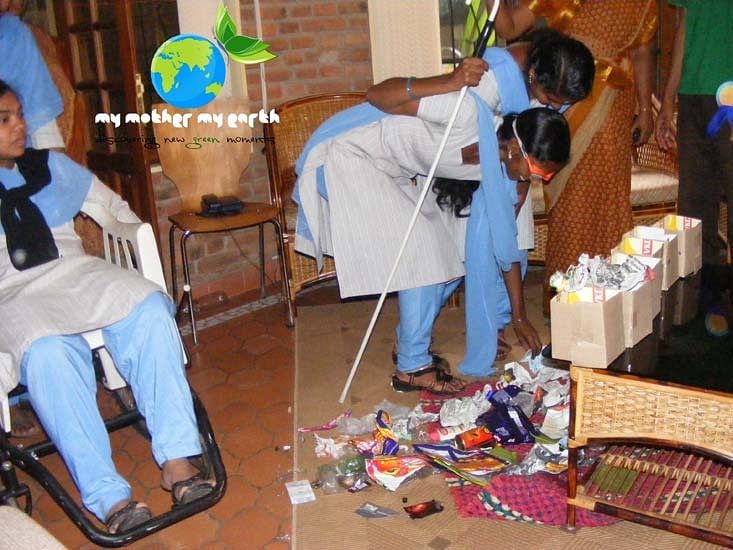 Even amidst our own growing consumerism and wasteful disregard for the environment, there are youngsters who are making an impact on deep ecological issues.
Inspirations: The single-handed work of Shri B Parameswara Rao (from the 1960s, in Andhra Pradesh) Rajendra Singh (Tarun Bharat Sangh in Rajasthan in the '90s), Thimmakka in planting and caring for thousands of trees on the Mysore highway, Surjit ""Bunker"" Roy, Assoc for India's Development, ASHA, etc.
The Cause
Manjunath, a 24-year old working at a hotel
in Bengaluru, actively started spreading awareness (Recycle, India) and working on waste collection, re-cycling, re-use program - on his own, three years ago.
A native of Thiruvananthapuram, he had started an environmental non-profit NGO 'My Mother, My Earth' - to actively enlist communities in Kerala and Karnataka in environmental protection.
But he needs support to take forward his action plan for a cleaner greener India which is ravaged by mountains of waste.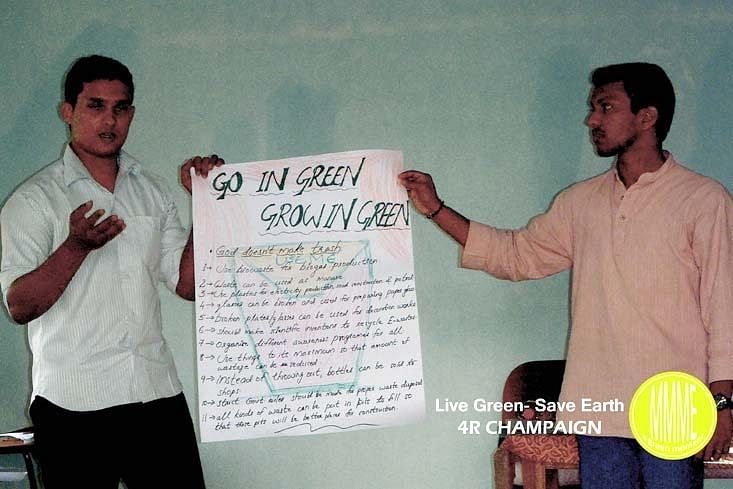 He has been dipping into his meager income to run these activities, but is amazingly committed in spite of his limited means.
In their own words:
My Mother My Earth
http://www.mymothermyearth.org
We have been working on a number of issues of public interest, especially related to environment, agriculture. We are working with students and local people at the grassroots level to build capacity and skills as well as adequate knowledge, to address the issue as well as the solution.
Team MMME is a group of self-motivated youngsters, passionate about making difference in our community. Our main focus is that to make the society aware and educate the upcoming generation about the essential of environmental sustainability and inspiring society to get self-motivated to save our mother earth.
Why Should We Help Mother Earth?
Aren't we now, leading for a disaster, in this blind race of development?
Amidst all sort of problems such as rapid population growth, production and consumption pattern causing stress and strain on natural systems, degradation and depletion of natural resources affecting the life support system (air, water, soil, and bio-diversity), unpredictable global climate change, ozone layer depletion and sea-level-rise, unemployment, poverty, economic inequality, social injustice, poor conditions of villages, big polluted cities, rivers and polluting industries?
Thank You!
For more details on my campaign, mail me at sandeepsc2001@yahoo.com