ABOUT THE CAUSE
Have you wondered what is it like to walk with a crutch every day?
Here in the water we take away those barriers and give 80 physically challenged children from Association of People with Disability, Bangalore an opportunity to learn "Swim N Survive". The program is designed to improve their muscle strength and provide them with the skills to survive a possible fall into water. The costs for the programme are high as the children need special transport from school to pool and back, swimming costumes & caps, swimming & safety awareness sessions and nutritional food after each session.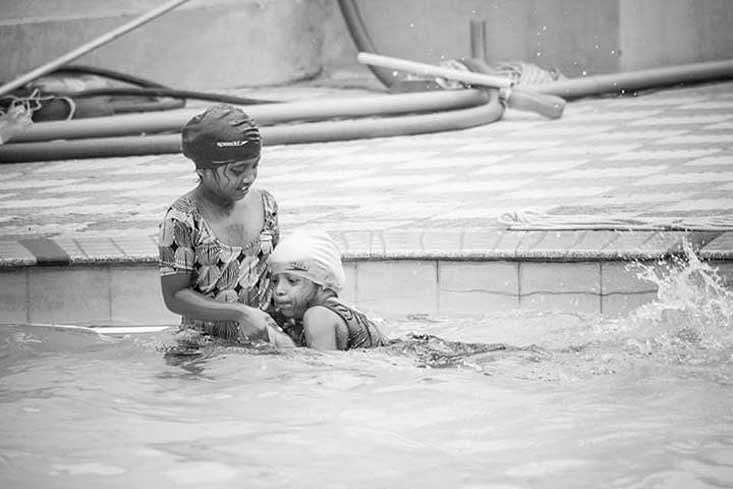 ABOUT THE NGO
The Rashtriya Life Saving Society (India) was founded on 2 August 1998 through an understanding signed between representatives of the Royal Life Saving Society (Commonwealth), the Royal Life Saving Society (Australia), the Indian Maritime Foundation and RLSS (I). They are a branch of the Royal Life Saving Society (Commonwealth) and a Full Member of the International Lifesaving Federation. All programmes conducted under RLSS (I) are as per ISO 9001:2008 quality management guidelines.
Today, RLSS (I) has expanded to become a PAN India Organisation and currently functions in 18 states. Most state programmes are self-funded by ways of the training courses conducted by the state chapters.
RLSS (I) already is working with the Directorate of Sports and Youth Affairs in Kerala. This partnership is unique in the fact that it is the first partnership in India in which a state has the taken the initiative and step forward towards taking action for the cause of drowning prevention. RLSS (I) setup 20 portable swimming pools in 10 districts in the state and train children in the Swim N Survive Programme.
Children are taught the basic skills of survival in addition to other life skills which develop them as better people in the local community. The Swim N Survive programme addresses challenges around Health, Hygiene, Sanitation and Livelihoods.
YOUR SUPPORT
Per child costs for training 1 handicap child are about Rs 2800 per head for 20 sessions and workshops. Raised funds are mostly used to provide transportation, swimming costumes & nutrition. We conduct awareness sessions for teachers and parents as part of the program.

Be the one to support this independance!!!

For more details on our campaign email us on ankit@lifesavingindia.org or rucha@lifesavingindia.org