I am a home maker from Mumbai, India and have a 5.4 year old son, Viraat who is diagnosed with Cerebral Palsy since birth. Cerebral Palsy is considered a neurological disorder caused by a non-progressive brain injury or malformation that occurs while the child's brain is under development. Cerebral Palsy primarily affects body movement and muscle coordination.
Currently, Viraat is stable in terms of heath but is facing delay in achieving his milestones. We have done intensive physio therapy, occupational therapy, speech therapy almost everyday in Mumbai. We have also tried HBOT (Hyperbaric Oxygen therapies - 40 sessions). Viraat was by then having a complete head control and could sit independently but could not crawl, creep, stand, walk and talk. We left no stone unturned.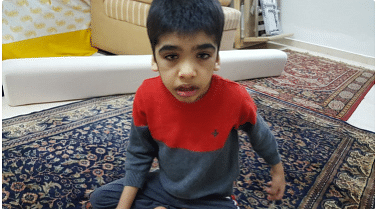 My sister got to know of an Institute in USA named The Institutes for Achievement of Human Potential (IAHP) in Philadelphia. The Institutes is a group of nonprofit institutes founded by Glenn Doman in 1955. The Institutes is internationally known for its pioneering work in child brain development and for its programs to help brain-injured children achieve wellness and well children achieve excellence. The objective of The Institutes is to take brain-injured children, however severely hurt, and help them to achieve normality physically, intellectually, physiologically, and socially.
We have been on the institutes program since October 2015. Viraat has shown good progress since then. Viraat is on an Intensive Treatment program wherein the 3 of us are required to go there once in every 6 months (twice a year).
Very recently, The staff of IAHP had evaluated Viraat and were happy with his progress. They gave us a program consisting of Physical, Physiological and Intelligence. His physical program consist of Standing with and without support, creeping with and without support; Intelligence program consist of reading words and bits of Intelligence; Physiological program consist of different breathing programs along with nutrition.
I am putting in my hard work and believe it pays off. Since the time we have started our new program, Viraat now creeps like a horse for a short distance and comes into the horse position more often, stands with support for a short duration. Its because Viraat puts in his bit and motivates me to do much more.
We are in constant touch with the Institutes regarding his current program. We need to go back to Philadelphia for our revisit in November 2017. Below are the break up of the funds required.
The approximate total cost for November 2017 is:
Airline cost (approx) 3600$
Intensive program 5400$
Hotel stay (approx) 1500$
Medical tests to be done 700$
Supplements 500$
Total cost 11,700 $ approx
Each and every contribution matters a lot. Could you please help, share in your social network and contribute any amount of your choice. It would make a big difference to both, Viraat and me.