Note: 13-year-old Basavaraj is fighting cancer for a year. He needs multiple rounds of chemo, radiation and bone marrow transplant to survive. His father has drained all his funds and needs your help.
When Basavaraj was a little boy, he would run to his father, Nagappa, and climb on his shoulders the moment he stepped inside the home. Nagappa, who is a farmer in a small town of Koppal in Karnataka, worked hard in the farm the entire day, but the moment he would see his son's smiling face, all his tiredness would go away. He worked for a meagre wage to provide for his family of four and struggled his way to make ends meet. On days when he didn't earn enough, he starved himself to provide food on his family's plate. Despite the shortcomings, they led a content life.

Basavaraj grew up looking at his father's struggles. His motivation stemmed from wanting a better life for his family.
"I will study well and get a good job so that my father can eat good food. He works so hard to send us to school," he would say as a 12-year-old.
After coming back from school, he would help his father in the farms. Everyone loved this dedicated young boy. However, things changed when Basavaraj suffered severe fever. Nagappa took him to the local doctor who said it was a normal infection and prescribed him medicines. However, his condition started worsening with passing days.

Nagappa couldn't understand why his son's health was failing. He was losing weight rapidly and was getting weaker. He couldn't even walk properly. When they went back to the local doctor, he recommended taking Basavaraj to Bangalore for further examination. Nagappa pooled in his little savings and borrowed money from his family to buy train tickets. Throughout the journey, he kept praying and hoped for the best. However, destiny had unfortunate plans for him.

After hours of diagnosis, the doctors told Nagappa that his son was suffering from Hodgkin's Lymphoma, cancer that starts in white blood cells. His eyes welled up the moment he heard the word cancer. For him, it meant death. He began sobbing as he saw his son, the fear of losing him overpowering his senses. The doctors consoled him and said that his son could be saved with multiple rounds of chemotherapy and radiotherapy followed by autologous bone marrow transplant. Nagappa finally saw a beam of light. Destiny gave him a chance to save his son's life.

He borrowed more money from his relatives and started his son's chemotherapy. His heart would shatter every time he saw his little one after the session, his body too sensitive to bear a high dose of chemotherapy. However, despite undergoing difficult, painful treatment, Basavaraj would smile looking at his father, making sure that his hopes are held high up.

Even while fighting the deadly disease, Basavaraj went to school. His dream of getting a good job was still intact. When the doctors advised him to stay indoors to avoid infections, he began studying at home. A few months passed by as Nagappa continued to make rounds to Bangalore for his son's chemo sessions.
When he went to the hospital this time, the doctors told him that Basvaraj's has to undergo more rounds of chemotherapy and radiation along with transplant without much delay. His treatment will cost

0

.
Nagappa couldn't believe his ears. He had drained every penny on the initial rounds of chemotherapy and was left with nothing. A cloud of darkness resurfaced when he heard the required amount. All his efforts to save his son's life seemed to be going in vain. His body shivered as he went to see Basavaraj after the session. He burst into tears the moment he looked at his son.
"Everything will be fine, Appa," little Basavaraj said. It was this strength with which he lived his life every day.
Nagappa's heart broke into a million pieces. How could he tell his son that he didn't have enough funds to keep his hopes intact? Watching him suffer in pain broke him, and his inability to continue his treatment caused him more grief. As he walked out of the room, he cursed his poverty for the first time in his life. He wished he had a good job to provide a cure to his son. His treatment drained him of funds as well as hopes.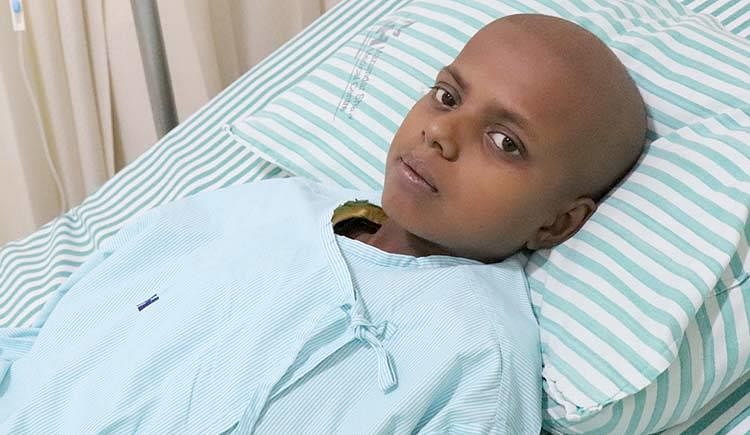 "My son has kept himself so strong, but it's my incapability that will shatter his strength. I have done everything in my capacity to save his life but now I can't see any path in front of me. I will lose him if I don't get the required money in time. Please help me," Nagappa cries.
What can you do?
Basavaraj is being a fighter despite the lingering disease that he has for the past one year. However, with passing days, his strength is reducing. Without urgent treatment, he will succumb to his sufferings. Nagappa has exhausted every penny in his son's treatment. He has no way to arrange more funds. Your generous contribution will help Basavaraj get a new life and pursue his dreams.

The specifics of this case have been verified by the medical team at the concerned hospital. For any clarification on the treatment or associated costs, contact the campaign organizer or the medical team.

Charity No: 65576567
Note: This fundraiser is not eligible for 80G tax exemption.