A survey was held in a school of 100 girl students in a remote corner of India, where the surveyor asked "if both you and your brother have to go to school and let's assume there is some urgent work at home, who will be made to stay back?" Every single student in the class answered that they- the girl child would be asked to stay home. Probing further the surveyor asked if there were any exceptions, his only answer was stunned silence.
This is true for most parts of India, both urban and rural included, the girl child bears the burden of more sacrifices as compared to the opposite sex. A man named Surya Sen Singh has consciously decided to work towards altering this fact, his is a story of profound success amidst a life full of adversities and challenges. He now wishes to shine the same light on the bright minds of young students in his hometown encouraging both boys and girls to attend school and instilling the importance of education within his community.
About Surya Sen Singh
Surya Sen Singh was born in a small district called Ghazipur, 100 kms north of India's holy city Beneras. Now 31, Surya reminisces of his childhood days, playing and studying at a make-shift shed that also doubled up as the only school in the village. A diligent student, Surya, with the financial backing of his parents went on to pursue higher education at Lucknow University, a decision he says changed his life. His transition to the big city provided him with the confidence and knowledge to pursue his dream job. Many of his fellow classmates have not been awarded with the same opportunities and it breaks his heart to have seen them left behind. The could-have-beens haunt him and he is motivated to change that for the next generations of students from his district.
The School
Surya founded the Ajivam Educational Society Trust in 2014 which laid the founding bricks for the first school in Ghazipur. The school has since blossomed to a strength of 160 students and can accommodate eight classrooms teaching a wide range of subjects till 6th standard. It aims at providing education for both boys and girls at a minimum yearly fee giving them a chance at quality education and equipping them with various life skills.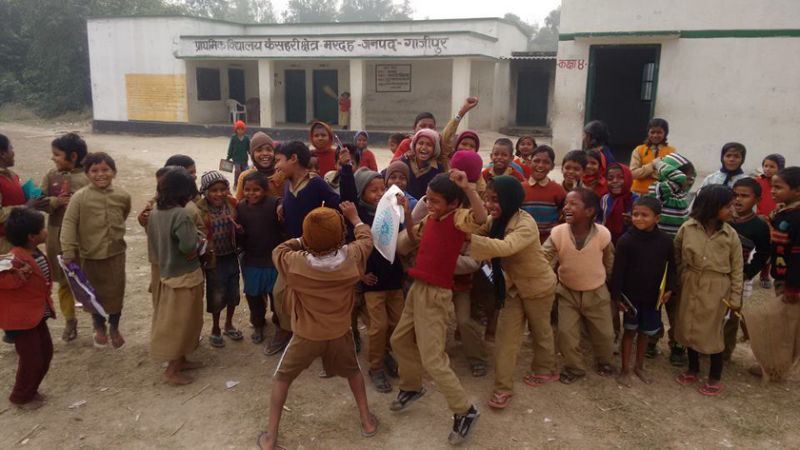 Though he has solved the problem of constructing a school for the village, Surya knows his mission is far from over. He feels that education is only qualitative when supplemented by access to current information and knowledge.
"The world is evolving at an alarming rate and no longer can learning be limited to the books and the four walls of the classroom. When I first moved to a big city,the transition was treacherous for me, I lacked the general knowledge and confidence that came so easily to my fellow big city classmates. I hope to change that for the kids enrolled in the school. "
The fundraiser
Surya has started a fundraiser on Ketto called "Help Build A Public Library For Ghazipur's Kids" hoping to raise an amount of Rs 4,00,000 to build a public library to supplement the school. The library, the first in the district, will educate communities on a wide range of topics and will be equipped with diverse resources from computers and the Internet to books and qualified teachers. Installation of solar energy panels will generate clean electricity for the school and library all through the year.
"Access to information and opportunities through the medium of the world wide web will keep the children abreast with current happenings around the globe. The internet will present opportunities for both further studies and jobs, and teachers will guide the children to make more informed choices about their futures."
The library is an attempt to open doors of opportunities and set the balls of transformation rolling within a community who is stuck in the ages, It is an attempt to better the lives of the kids, enlighten their minds and bring hope and improvement to an entire district.
To bring about real change, Surya needs to bring about a shift in the mindset of the people, through his continued efforts he longs for a day where the attendance ratio of boy to girl in a school will be equal and the parents will realize the importantace of education and its impact on an individual's life. Inspired by Surya, many others have come forth and started fundraiser to support education in remote corners of India, you can back their fundraisers here.