He dreamt of a world where all children have a safe environment to grow up in, get proper nutrition and have access to medical help. With a mission in his mind and determination in his eyes, our superhero put on his bright pink tutu and ran like the wind.
Let us tell you one of the sweetest stories we've come across in the past few days.
When our campaigner Veda met Pratik
Veda and Pratik met at an airport gate after a design conference. After a long conversation they noticed how their eyes shined a little brighter when they spoke about making a difference to the society. Being an old volunteer at Bal Asha, an NGO that works with local authorities to find a way to unite abandoned children with their biological parents, she invited him to visit the home. He came and instantly fell in love with the children there. Since the last few months, Pratik has been helping them confidently communicate their cause through a brand strategy exercise.
The sweetest challenge ever!
Pratik is a regular at the half marathon - but this year was special. Veda and the kids at Bal Asha challenged him to run wearing a tutu. "What's this? Running in a skirt? That's odd! Why would I do that? No way!". But knowing the impact he'd be creating an impact through online crowdfunding, it didn't take much time for Pratik to go from "No way!" to "Why not!" - "I was a bit nervous but I thought it would be a liberating experience to make people smile and laugh - all for a good cause!"
They didn't just make him run, they made him run in style - the team got in touch with Swapnil Shinde, a renowned designer to design the tutu for Pratik.
How he ran in a tutu
On the day of the marathon, Pratik put on his designer tutu and started raising funds for Bal Asha, one km at a time. "I reached the venue extremely late. I was the only one crossing the start line and most people had already finished half the Sea Link route. So the first 5 kms were fairly lonely and dark!
But once I paced ahead and caught up with the crowd the excitement really kicked in! People genuinely enjoyed seeing the tutu! Fist bumps and smiles all around. I could hear people cheering from the other side and stopping me to take pictures at times. I've never ran 21km with a smile on my face throughout."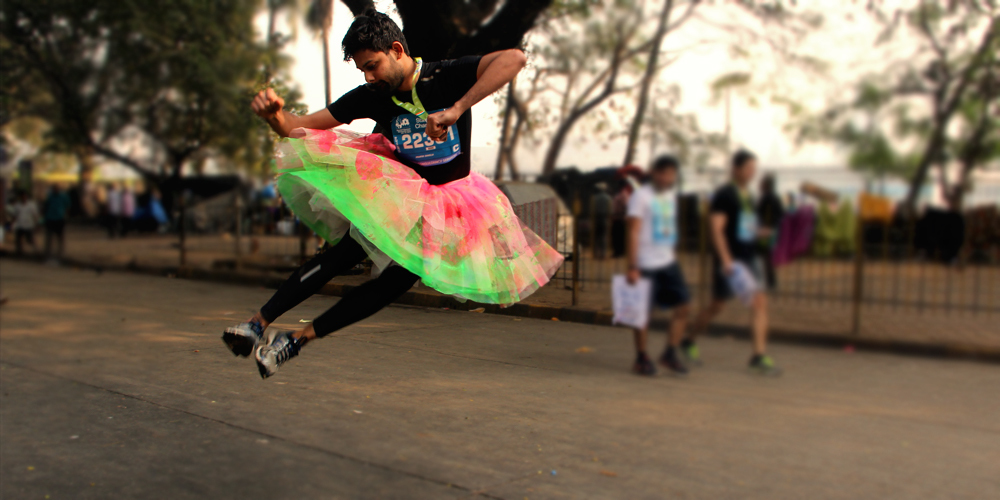 On being asked how it felt like to run wearing a tutu, Pratik exclaimed, "I feel like I was able to run faster because of the tutu. I realised early on that me wearing a tutu and just walking instead of running looked pretty odd. I had no choice but to run non stop to make the campaign work! That pressure really helped me pull through I guess."
What running in a tutu led to
Veda and Pratik's efforts raised Rs. 1,63,625 with help from 53 supporters for the amazing children at Bal Asha. We asked Veda how the raised funds would be put to use, "Running a home with 50 children is a big task. Funds generated by this fundraiser will be used towards - food, health care, physical therapy and other key needs like formula for infants. Bal Asha as a policy uses a great majority of the donations that they receive purely for child care, and attempt to minimise they're administrative costs as much as possible. So all the funding we've generated will go directly towards everything mentioned above."
"I think I was pleasantly surprised. Especially with how quickly we reached our goal amount. Of course there was skepticism and nervousness since this was our first time (using crowdfunding) but I'm glad everything worked out for the best! I have to say that doing something different for a difference can help! Kudos to Pratik for this amazing idea and the courage to do it."
The response their fundraiser received was so encouraging that they're already full of ideas for the coming year's marathon. It's great to see youngsters making a difference with a twist.
If your company wants to discuss an idea that can create a meaningful impact, let's talk! Write to info@ketto.org or contact us on Facebook & Twitter.