The second wave of the Coronavirus pandemic has taken over few countries across the world, the healthcare systems of these countries are on the brink of collapse.
In India, approximately 26,031,991 people have been infected by the covid-19 virus, and over 291,365 have lost their lives. There seems to be no other alternative to prevent the further spread of the disease other than frequent lockdowns.
Due to this, underprivileged communities are facing famine-like situations for food, medicines and dry rations.
If we, the privileged people of the society, don't act now, our world as we know it will spiral out of control, and we may face a crisis like where our entire healthcare system is overwhelmed due to this disease.
Staying safe requires that we implement preventive measures like social distancing, maintaining proper hygiene and spreading awareness about the virus.
---
What is Ketto doing?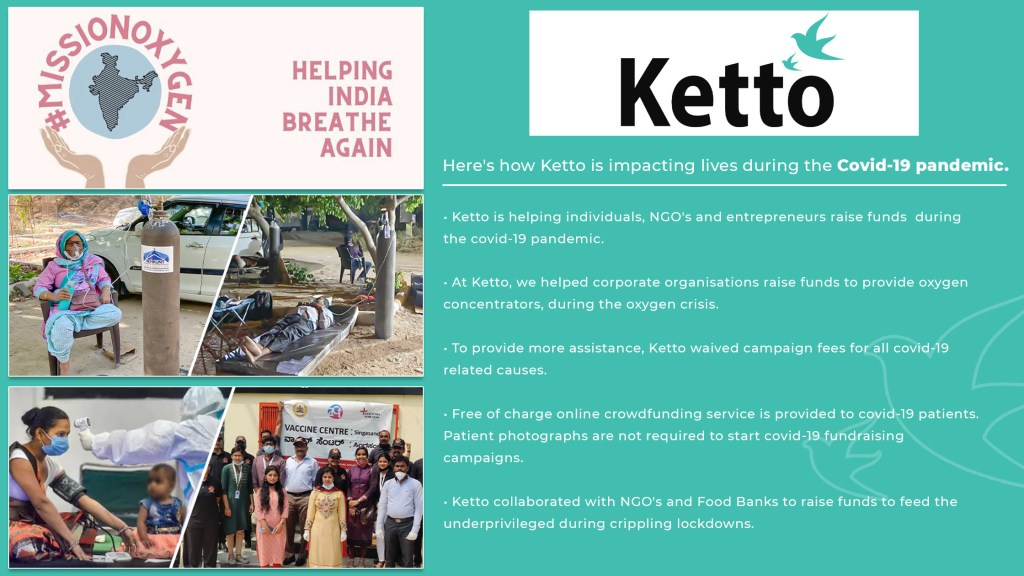 Ketto has created a Micro-site focused only on Coronavirus Relief Fundraising. Similarly, here are a few things Ketto is doing to help the community survive the second coronavirus wave and prepare for the next:
Fees for campaigns linked to coronavirus have been waived off. Online crowdfunding service is free of charge to all the patients of coronavirus.
To ensure privacy, no photographs of the patients will be required to start campaigns.
Ketto is helping individuals raise funds to create awareness and provide emergency kits.
We are collaborating with NGOs and food banks. Similarly, we are helping several NGOs raise funds to stop the Coronavirus pandemic. We are actively raising more awareness about the virus in collaboration with our partners and with the help of our social network. We have collaborated with:
---
Here's How Ketto Has Made An Impact!
Currently, the following campaigns are actively raising funds using Ketto's online fundraising platform:
1: Mission Oxygen- Helping Hospitals Save Lives: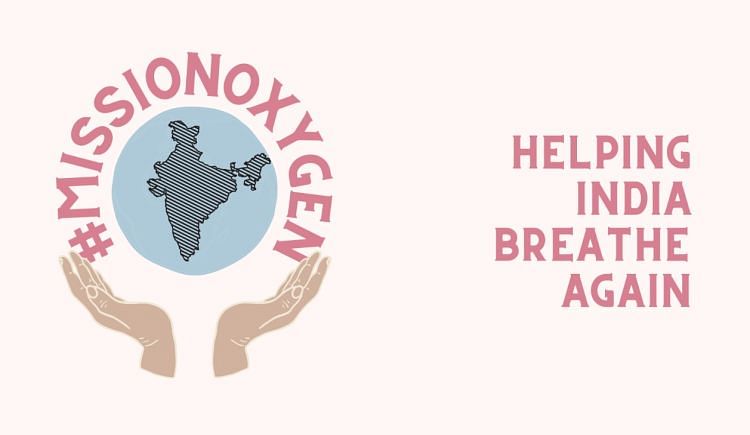 Mission oxygen, an initiative that was started only a couple of weeks back, aims to systematically address the on-ground issues to make oxygen supplies across different severities of use available in the shortest time possible. The Mission Oxygen is run under the umbrella of DEMOCRACY PEOPLE FOUNDATION.
---
2: India Needs Your Support! Now More Than Ever!
India needs our help. Now, more than ever. Sauce. VC and Epigamia, along with others from across the globe, have come together to help Doctors For You, who have been working tirelessly on the frontline and on-ground in Delhi for COVID relief—assisting DFY with the global and domestic supply chain for the products required.
Using Epigamia's pan India logistics and our global logistics network to help source & procure necessary equipment
Using our global network to help by raising funds
Consulting social sector experts to brainstorm and assess the situation
Identified critical intervention areas through need assessment
---
3: Feeding From Far-Ration Distribution Amid Lockdown
Feeding From Far is an initiative feeding the poor and unemployed who are struggling to feed themselves during the lockdown. We distributed over 17 lakh meals to the needy since the first lockdown hit through cooked meals and ration kits.
---
How can you make an Impact with Ketto?
You can start a fundraiser to help people access the emergency kits and support the families of victims who have difficulty coping with the current crisis. At an individual level, you can make care packages and distribute them within your community.

Poor people like our maids, watchmen, plumber, sanitary workers, etc., are consistently risking their safety to ensure our life functions smoothly. Unfortunately, they are least prepared to defend themselves against emergencies like coronavirus. They end up losing their jobs as the pandemic spreads further, or they may get infected themselves. You can help them, though! Coronavirus Relief and Medical Cost: Creative Ideas For Fundraising

You can start a fundraiser for them and raise money that can sustain them during the period of social distancing and lockdown. Similarly, you can use the power of online crowdfunding to help them survive these difficult times.

Another way to give back to the community and help during the COVID-19 crisis is to donate to NGOs working on the ground to stop the further spread of this virus.
Your little contribution will go a long way in ensuring that these NGOs function efficiently without worrying about monetary concerns.
WHO Country Office for India (WCO) has also been working closely with the Ministry of Health & Family Welfare (MoHFW), on preparedness and response measures for COVID-19, including disease surveillance, laboratory and research protocols, risk communications, training on infection prevention and control (IPC) and cluster containment plan, surveillance and tracking of travellers.
---
In case of any emergency you can contact below:-
MoHFW 24*7 central helpline number – +91-11-23978046
MyGov Corona Whatsapp Helpdesk – +91 9013151515
To know any more information regarding coronavirus, you can also visit NCDC's Website
We are all in this together.
For any queries, reach us out on WhatsApp! Add 7700975559 to your contact list & say hello to subscribe. Get stories of people who need nothing more than your voice – a simple share.
Even in isolation, we can all stand united!
Start supporting today
Fighting coronavirus is crucial. Every little help from you can create a significant impact in supporting underprivileged people and those in need. You can start taking action today by either starting a fundraiser for coronavirus or supporting one.
---
Latest posts by Christopher
(see all)