We all know how expensive healthcare can be. The Indian government only spends around 1.5 per cent of the total GDP on healthcare. As a result, our healthcare infrastructure is overburdened, with hospitals and medical centres lacking basic amenities and facilities for treatment. Thus, people with chronic ailments or other critical diseases are unable to afford treatments at hospitals due to exorbitant fees. They either end up exhausting their entire savings, selling off their assets or borrowing loans from family and friends. SIP (Social Impact Plan) by Ketto aims to change this.
With Ketto's SIP (Social Impact Plan), however, people need not worry about paying for their medical expenses. Let us understand what Ketto is, how its Social Impact Plan works; and the success stories of people who fought all odds to overcome their illnesses, thanks to Ketto.

---
What is Ketto?
Ketto is an online fundraising platform founded in 2012 by Varun Sheth, Kunal Kapoor, and Zaheer Adenwala. It is one of India's most trusted crowdfunding platforms and has helped save more than 1.4 lakh people from chronic and severe illnesses. The platform believes in the motto 'Healthcare for All' and runs various campaigns, requesting the public to donate funds to multiple causes.
All the donations made are non-tax deductible and are transferred directly to the patients. Donors also get regular updates about the campaigns that they have donated money to. Moreover, you need not worry about the authenticity of the patients, as Ketto has a strict three-step process that verifies every patient's background.
---
Secure Payments
All the payments made to Ketto's fundraisers are secured through 128-bit encryption. You can also choose to remain anonymous while making donations.
Besides medical campaigns, Ketto also runs crowdfunding campaigns for cancer patients, people who want to raise money for their education, child welfare, animal welfare, and people who need financing for their creative and entrepreneurial ventures.
---
What is Ketto's SIP (Social Impact Plan) all about?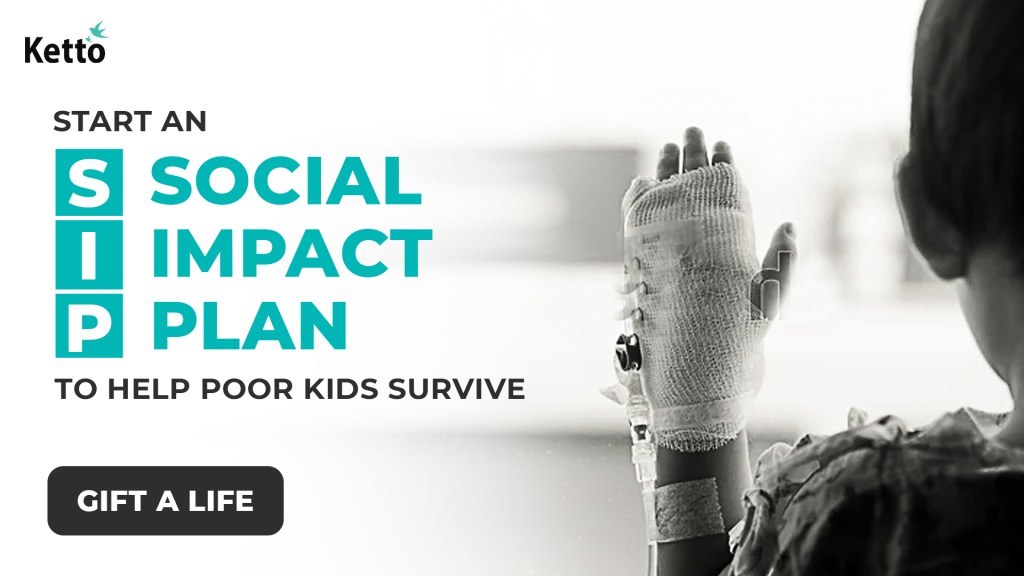 Every two minutes, a child dies in India because they cannot afford the expenses required for medical treatment. With Ketto's SIP (Social Impact Plan) for medical, you put all your troubles away and avail the best treatments for your illnesses.
---
Here is how the Social Impact Plan works:
Donate to your chosen cause. Your monthly donation will be successfully matched with a patient who is in urgent need of life-saving treatment.
All the donations go to the patients. The donations made via Ketto are not tax-deductible and are transferred entirely to the patient's account.
You will be receiving regular updates about the status of the patient's health, how long the treatment is expected to continue, and whether any further donations are required.
---
Ketto's Eminent Donors
At present, Ketto has over 55 lakh donors from India and around the world. Some of its most prominent donors include politicians Shashi Tharoor and Aaditya Thackeray, and Bollywood actors like Abhishek Bachchan, Sonam Kapoor Ahuja, Shraddha Kapoor, and Akshay Kumar, and journalists such as Rajdeep Sardesai.

---
Ketto Success Stories
Ketto's crowdfunding campaigns have helped save over 1.4 lakh lives since its inception in 2012. People who thought they wouldn't be able to survive owing to mounting medical bills made it, thanks to Ketto's SIP and its benevolent donors.
Let us take a look at some of the platform's success stories.
Anthony: When Anthony was a year old, he required a transplant that cost around Rs. 16.50 lakhs. His mother, a housekeeper, couldn't afford the expenses and only hoped for a miracle. Thanks to Ketto's Social Impact Plan, Anthony, and his mother were successfully able to arrange funds for his transplant, and today, Anthony is just like any other kid, happy and playful.

---
Balu: Balu comes from a family of daily wagers; and so, affording world-class treatment at a hospital seemed to be a luxury for them. When Balu was diagnosed with cancer and needed over 15 lakhs for chemotherapy, his parents knew they couldn't save him. However, thanks to the efforts of the donors at Ketto, Balu's family raised money on time, and today, Balu is a hale and hearty child.

---
Aashiya: Four-year-old Aashiya had been suffering from hearing problems for a very long time, and everyone thought that she wouldn't be able to hear properly in her life. However, with the help of Ketto's fundraising campaign, Aashiya's family secured funds of over 8 lakhs and successfully managed to get a cochlear implant for her. Now, Aashiya can hear and talk like any other human being.

---
Sai Shree: When Sai Shree was a year old, she had been diagnosed with cancer. It seemed impossible for her family to pay 15 lakhs for her chemotherapy, as her father had just lost his job. Thanks to Ketto, many donors stepped up and paid for her treatment. Today, Sai Shree is on her road to recovery.

---
Ketto's SIP (Social Impact Plan) has helped many people pay for their medical expenses, saving countless lives. If you are interested in contributing to one of Ketto's meaningful causes, just click on the Ketto website. You can click here to read more about Health Nest a social community that supports and helps you overcome personal challenges, whether raising funds for someone in need, talking with medical experts, caregivers, etc. Or download the Healthnest App.

Latest posts by Christopher
(see all)